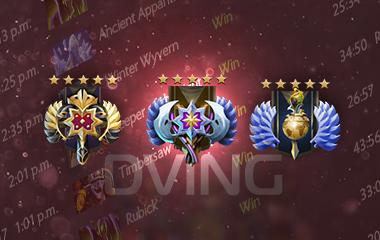 Qualifying games Core / Support - Dota 2
🕓 Completion time: from 7 hours.
Need Help?
Build your custom order
We will reply in a few minutes
What customers say about us
QUALIFYING GAMES
Dving.net provides calibration in Dota 2. Our crew of players with 5600+ MMR, high KDA and win rate will provide you the best result after 10 games. The higher the initial account rating, the lower chances to get it down in next games.
Dota 2 calibration specifics
After getting 50 level of the trophy you are able to play qualifying games. In which case the first 10 matches are to identify player's skill and provide even players in next games. Starting MMR may vary from 1000 to 4500. To get the maximum amount you need to note few factors affecting your result:
-         KDA – correlation of your kills and assists to your deaths.
-         Skill bracket – level of your play on Dotabuff.com.
-         Win rate – your wins and losses.
The higher these measures, the higher calibration result.
Dving.net boosting advantages:
-         Absolute safety. We are a registered company, working in this direction for many years.
-         Quick order processing and completing. We process calibration orders every day from 08:00 to 02:00 CET. Average processing time equals 15 minutes. The calibration itself takes 1-2 days.
-         Eventual MMR from 2500 to 4500 (for solo and team games).
-         Option to get the new account with high win rate, KDA and skill bracket, which can be calibrated later with the best results.